The Kalbelia community in Rajasthan, known as the snake charmer tribe, have slowly lost their artistic, performance-based livelihoods due to the draconian Criminal Tribes Act. This has left the tribe severely marginalised, struggling to survive and largely practising open defecation. This blog is based on interviews with Kalbelia community members, who express a clear need and desire for more dignified, healthy and inclusive sanitation solutions.
Unjustly criminalised
The Kalbelia is a community based in the Kotri village in Rajasthan and is marked by their colorful clothes, vibrant dance, and youthful spirit. Often called the snake charmers tribe, they have been known for their rich culture, and celebratory dance, where males play the traditional instrument called pungi, and females twirl in their silver thread embroidered lehengas (long skirts). However, their story is not as colorful as one might think.
The Criminal Tribes Act enacted by the colonial state in 1871 changed the lives of nearly 1500 nomadic and seminomadic tribes and 198 denotified tribes forever – Kalbelia's were one of the many to be impacted. Irrespective of the actual activities of particular members of the community, this draconian law declared them habitual criminals and restricted their movements by putting them under constant surveillance. Even after nearly seven decades of this law being repealed, their present continues to be haunted by this colonial legacy, and their future remains bleak.
Shaky settlements
The primary occupation of this community was dancing and singing their traditional folk tales, seeking food in return for their performances, and traveling from one village to the other. However, owing to the Criminal Tribes Act and its aftermath, their activities became restricted, making it difficult to move between villages freely. The loss of livelihood was further stamped with stigma hampering the trust they had established with others in the society.
The Kalbelias residing in Kotri village came to the area six decades ago as a group of only five families, but with the support of Manthan Sanstha, a local community based NGO, have now settled in the area. The pandemic totally devastated whatever was left of their artistic activities, rendering them completely confined to their make-shift homes, living on INR 50-100 per day. Most of them are now completely detached from their traditional values, culture, and arts and find work under the Mahatma Gandhi National Rural Employment Guarantee Act 2005 (MGNREGA).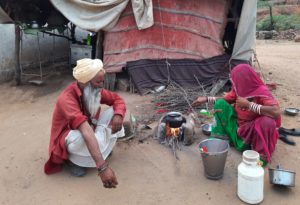 The sanitation condition
By virtue of its location, the Kotri village is severely affected by water scarcity. Almost the entire community practices open defecation with only a handful of houses having toilets. Where there is a separate space for toilets, it is either clogged or poorly built making it non-operational. Despite the existence of the Swachh Bharat Mission Scheme under which the Indian government adopted the audacious vision of making India open defecation free, the reality of this community is far from ideal.
When asked about the level of awareness regarding the Swachh Bharat Mission, the majority of community members were not aware of such a scheme. In families, where there was some level of awareness, lack of proper documentation and stigma attached to the community made it difficult for them to avail the benefits of this scheme. The poor economic condition of the community makes it all the more difficult. When they are struggling with basic food and survival, having toilets in the houses is not a highly prioritized or urgent need.
For families, where documentation is not a challenge, funds are. Kamnath, a community member shared, "We are not able to construct toilets due to our poor economic condition. The Government scheme provides up to INR 12,000 to construct a toilet, but the actual cost is much higher than that. How am I supposed to construct a fully operational toilet with that little money when I am struggling to feed my family on a daily basis?"
Poor awareness levels, lack of availability of regular water and storage facilities, lip service like support from the government, and inconsistent community engagement efforts for sanitation and hygiene are some of the bottlenecks this community faces.
The impact of poor sanitation practices
Women, children, and people with disabilities bear the heaviest brunt of poor sanitation practices. During menstruation, women and girls use dirty clothes and defecate in open, dangerous, dark, and unsafe areas which makes them highly prone to catching infections. Similarly, small children who already have poor levels of nutrition, defecate in the open, do not bathe on a daily basis, play in the dirt, and lack any kind of awareness and education about healthy habits such as regularly washing hands.
When asked about the importance of hygiene and sanitation, Manjunath remarked, "We understand that it is important to follow hygienic practices for a healthy and dignified life. We also want our children to learn these. But we have no support from the government. The Gram Panchayat had provided a handpump, but even that has run dry and is nonfunctional – we have no infrastructure, no land, and above all no respect from anywhere. The Panchayat and the Sarpanch need to pay attention to our perils and make efforts to support us."
A glimpse of resilience
Manthan Sanstha has been working with this community over the last few years and has established trust with the members who regard the NGO's campus as their second home. When asked about co-creating solutions to this problem, many ideas emerged. There is a keenness among the community members to learn more about sanitation and hygiene, especially for the sake of their children. There is a common consensus that more collaborative efforts between the local civil society, the Panchayat, and the community are needed to fund the required infrastructure and to shift the needle on this issue.
Having said that, provision of infrastructure alone is not going to result in any behavioral shift. Just constructing toilets does not mean that community members will change the way they live overnight. It is imperative that we respectfully engage with them and value their knowledge in a manner that they become a part of the solution, contrary to the way they are, without reason, marked as part of the problem.
The communities also expressed their joy at being asked about their thoughts – they are used to being shunned and looked down upon. However, through the interactions to highlight their voices in this blog, a safe and brave space was opened. Such participatory community engagement is critical to nurturing effective conversations and crafting behavioral change campaigns, led by communities themselves, to improve awareness levels with respect to sanitation conditions. This herculean task requires funds, determination, and grit but above all, it requires us to be human, inclusive, and tenacious.